How to Choose a Dial Up ISP - Find Dialup Internet Service
People often choose dialup internet service due to the lower cost compared with cable or DSL internet. Although broadband ISPs like cable services and DSL providers often have low introductory prices, after the discount period the costs are generally quite a bit more than dial up access. Jump ahead to compare dial up services or continue on this page to learn background info to aid in your decision.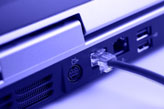 Many dialup providers have thousands of access numbers available nationwide. No matter where you live, you likely have access to many dial up ISPs through a local call. (if you live in a rural area that may not apply, and you will likely be best off choosing an ISP that has local access numbers for you.) Nationwide access numbers are another reason many people choose dialup internet access, because it means they can access the internet from hotels, motels, friends houses, etc. across the country. Cable and DSL can only be used at your home where you have it installed.
The way you usually end up picking a dial up internet service provider is by comparing the features and prices. The importance of the various features will vary for different people. For some, the lowest cost is most important and reliability, extra email accounts, exclusive features and superior support may not matter. Others may need a certain number of email accounts or a minimum amount of storage space. Others may value exclusive content, popup blockers, internet accerlaters or other features. Most want a quality ISP, loaded with features at a great value.
Come up with a list of features you require and check off the ISPs that match your neds. For example, if you need at least 5 email accounts, eliminate the services that do not offer at least that amount. Make sure you include expected speed and reliability into the mix. Then choose between the remaining internet access providers based on cost and non-required features. You'll end up with the ISP that should be the best value for your personal needs.
Don't forget to watch out for possible hidden costs. For example, many of the discount ISPs charge for technical support, and $1.95 a minute is a common rate. Therefore, a 20 minute tech support call can cost almost $40, wiping out the savings you were looking for by using a cheap internet service provider. Fortunately, you don't have to pay $20 or more for quality internet access, as there are discount internet services that offer free 24/7 phone support. (They just are usually not as cheap as the cheapest dialup providers.)
So there you have it. To choose a dialup service provider you first select those that have a free local access number and any features you require. Then you choose between those that remain by looking at quality, connection speed, features you like and comparing the costs (including support and hidden fees.)
When you choose a dialup ISP, it is recommended that at least to start with, you go with a month to month contract with no long term requirement. After you have used a dial up provider for a while and are happy with the service, you can consider signing a long term contract, or prepaying for an annual term, if it will give you a significant discount.
Hopefully this article helped you figure out what you are looking for in a dialup internet service provider. Now move on to step two and compare dialup intenet access providers or start at the top for internet service providers.
How to choose an ISP: Cable Internet - DSL Provider - Satellite Internet