Speed Up Windows Startup
You want a faster and better PC? Join the crowd. Everyone wants a better, faster computer. But you don't need to dash out to the electronics store just yet. You can squeeze out more speed from your own trusty computer in just a few, easy steps.
The next time you turn on your Windows PC, take a look at all the items that load each time your computer boots up. While most of the software you've invested in may have its place, do you really use all of it on a day to day basis? Probably not. But if the software is automatically loaded each time you turn on your PC, it's ready and waiting for you. At the same time, it's also hogging up its fair share of memory and other resources. If you have enough of these memory hogs sitting around, your PC will slow down considerably, possibly even causing system crashes.
Why bother with a slow system that could be prone to crashes when you can simply stop these programs from loading and just launch them individually, when needed. You'll enjoy a faster PC without sacrificing anything.
Items get added to your start up folder all the time; many times they get added inadvertently. For example, many software programs automatically set themselves up to launch automatically, others give you a choice but during setup users tend to click OK and Next with abandon. The end result is the software sets itself up to start each time Windows restarts.
In some cases, it's critical to have the software load each time like in the case of anti-virus protection. In other cases, is loading your favorite media player each time really necessary?
Now that you've decided to speed up your Windows XP computer by cleaning out the start up items, here's how to do it. Simply go to the Start button and click Run. Type in the word, "msconfig" into the text box and click OK.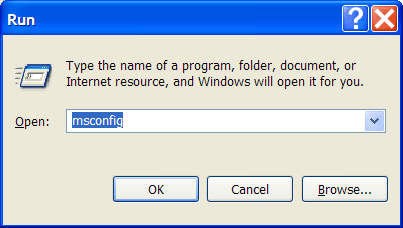 The System Configuration Utility will open. Click the last tab which is labeled Startup. There you will find all the items that currently load each time your computer starts up.
Some items will be fairly cryptic and you may not be sure what they are. Others will be obvious. In the case below you'll see hpztsb07. What in the world is that?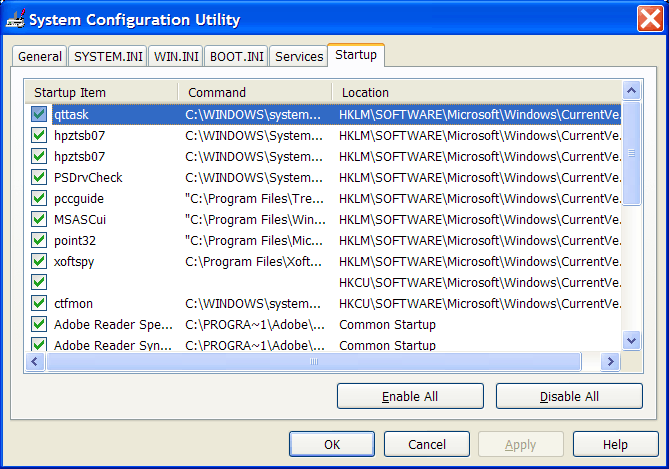 If you expand the area called Command, you will see the path. In this case, this is an HP printer driver for the attached HP printer. This computer also automatically starts up a program called XoftSpy. In this case, this is an anti-spyware program. The computer loads it up each time it starts and scans the system for any spyware threats. This is a good program to launch each time.
You can use an online database located at www.bleepingcomputer.com/startups/ to check items in your startup file to see if they are legitimate programs or not. This is helpful in determining whether to disable the program from start up. In the above screenshot, qttask was determined to be a system tray access to Apple's Quicktime viewer. The database suggested that it's not necessary to run this program automatically. Therefore, this item will be disabled. Use the database to help you remove items that aren't needed each time you boot the PC.
In addition, this database will tell you if a program is a potential malware program. You can then stop the malware from loading each time you start your computer, though a better solution is to remove it completely.
Once you've cleared the checkboxes of the programs you don't want to start up each time you turn on your PC, click OK. You may be asked to restart you PC in order for the changes to take effect. Either restart now or choose to restart later.

Once your PC restarts, you can experience your faster Windows XP computer. If you don't like the changes, you can always go back and tell msconfig to load up those programs you want to launch automatically.
To prevent new programs from adding themselves to the Windows start up program, pay attention when installing. If given a choice to start automatically, give it some serious thought to how that may affect your PC. If you're installing a critical program, you might want automatic loading, if it's not a critical system protection program, opt not to start it automatically and choose to run it manually when needed.
These tips for removing non-critical programs from Windows XP startup can help your computer restart much faster. Just keep in mind that all information on this site is for use solely at your own risk. We can't be responsible if you mess anything up on your computer when making adjustments to the system, so be careful about any changes you make.
Compare Internet Providers: Dialup - DSL - Cable Internet - Satellite Internet - Wireless Internet - VOIP Phone Service