Speed Up Windows XP Computers
Your Windows XP machine has a great deal of power just waiting to be unleashed. Much of its power is being wasted on items you have little use for. All the bells and whistles – literally – can slow your Windows XP machine down. For example, did you know those cute little beeps at start up and during shut down can slow your machine down?
We'll show you a few simple tweaks that you can do to your computer to speed it up without making any major sacrifices.
In the case of the beeps, you can disable system sounds to help speed things up. This is easy to do, simply go to the Control Panel and find the Sounds and Audio Devices icon.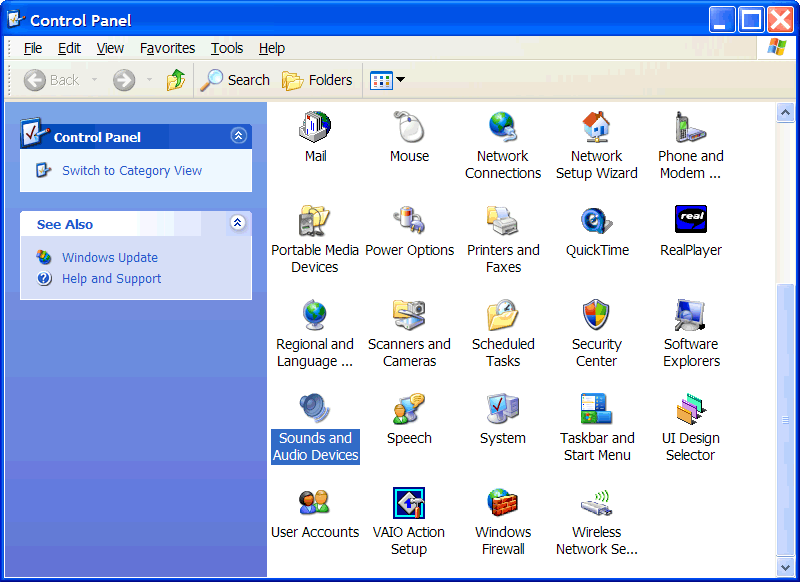 Click on the Sounds tab and choose No Sounds from the Sound Scheme drop down list.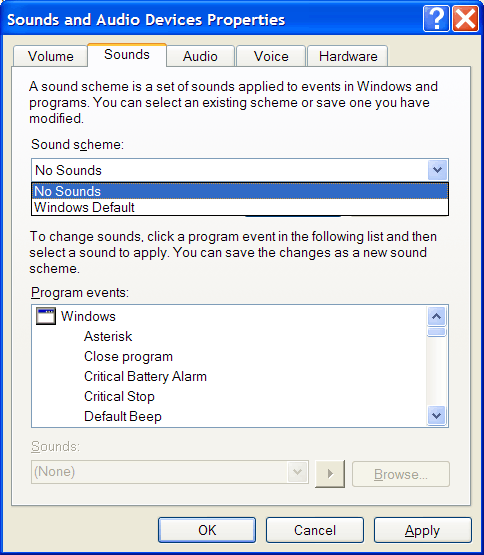 Click the OK button. Now your PC will be a silent machine as far as system sounds go. (Note that system sounds are things like the start up and shut down jingles, the sound when there is an error, Internet Explorer alerts and the like. If you turn off video games you can still hear music, sounds effects in video games, music on web pages, etc.)
Another performance booster is to periodically clear out your Restore Points. The System Restore has its place and can be a great feature, especially when you are adding new components or are experiencing problems. In fact, having a working restore point can be a real life-saver when you run ino a system problem. But overtime, all those restore points accumulate and can take a big bite out of your hard drive space.
You can either periodically delete restore points to regain lost hard drive space or you can turn off System Restore altogether. Choose whatever you are most comfortable with, remembering how crucial it is to have at least 1 valid, working restore point to return to in the case of an emergency. If you turn System Restore off, remember to manually create a system restore point prior to making any changes to your system such as adding new hardware.
To remove restore points, go to the Start button, click All Programs -> Accessories -> System Tools -> System Restore.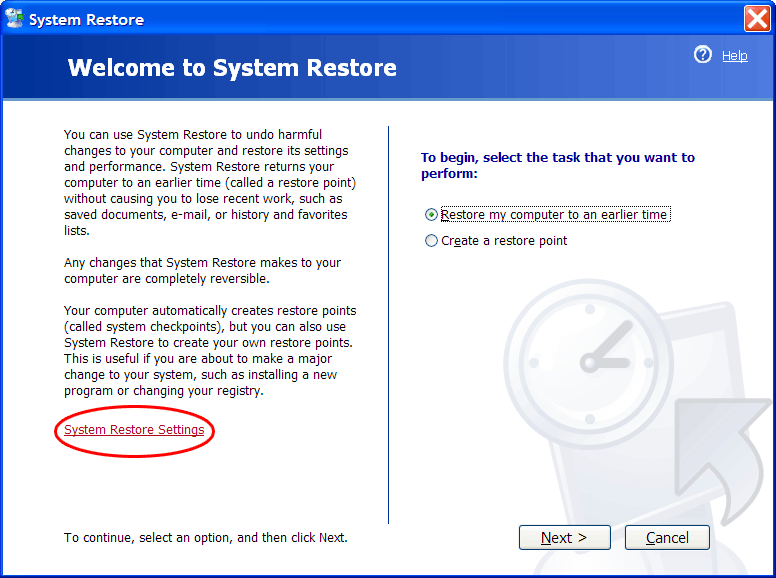 Click on System Restore Settings.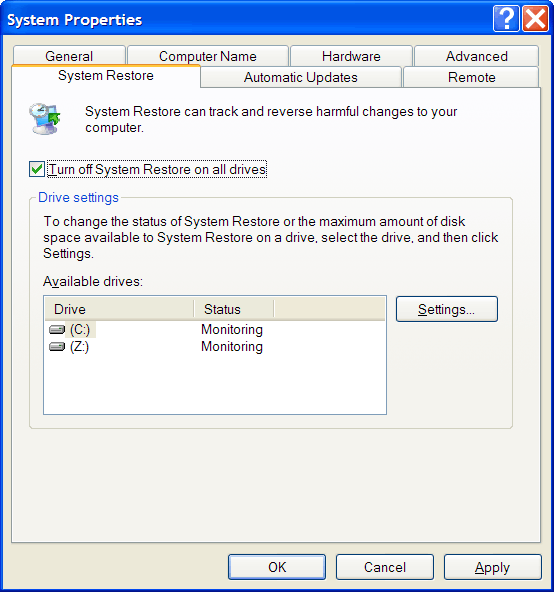 Choose Turn Off System Restore on All Drives. This will turn it off and remove all your previous restore points. Once you turn it off, the restore points are deleted. You can then turn it back on to continue creating periodic restore points or you can leave it off until you want to create your own restore point.
Another tweak to speed up your Windows XP machine is to disable file indexing. While it's convenient to search for documents using words, phrases and properties that are found inside the documents, creating an index to allow for fast searches based on these queries will slow your PC down. When you have file indexing on, a searchable keyword index is created that extracts and details this information from all documents and files on your PC. This process is ongoing and takes up system resources.
Turning off file indexing doesn't stop you from searching your hard drive using these criteria, in fact, you can still do these searches as needed. The search itself will take a bit longer but consider how often you use these types of searches. Why suffer with slow performance all the time to have a faster searches if you rarely perform them?
To disable file indexing, double-click the My Computer icon and find your hard drive, usually the C: drive. Right-click on the drive and choose Properties.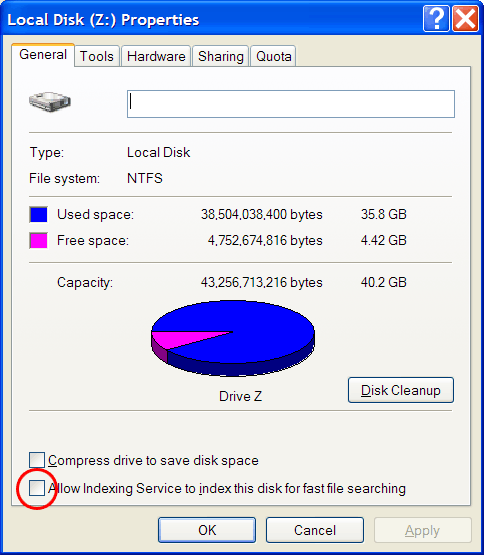 Remove the check mark in the box that says "Allow Indexing Service to index this disk for fast file searching." After clicking OK, you will be asked to apply the changes to the hard drive only or to subfolders and files. Choose to apply the changes to the subfolders and files and click OK. If you get an error message such as Access is Denied, click the Ignore All button.
These tweaks will speed up your Windows XP machine without making any major sacrifices. Unless you really love those little beeps, that is. As with all information on this site, you are using it at your own risk. While we intend this article to be helpful for speeding up Windows XP, we can't be responsible for any damage that may result from adjusting your system settings.
Compare Internet Providers: Dialup - DSL - Cable Internet - Satellite Internet - Wireless Internet - VOIP Phone Service